To make informed financial decisions, nonprofit leaders should learn to read and understand their financial statements and reports. The nonprofit's financial statements help you understand the organization's current financial standing and predict its future. In other words, if you know your data on revenues, expenses, and changes in assets, you will be able to assess the performance of your nonprofit and identify where you can improve for a stellar performance. In today's podcast, Joseph Scarano from Araize and Stephen Halasnik from Financing Solutions discuss how to read a nonprofit financial statement and report.
How To Read a Nonprofit's Financial Statements and Reports
The importance of finances to the sustainable growth of every organization cannot be overstated. For nonprofits, an adequate understanding of their financial statements and reports helps improve their financial management skills as it gives them a solid foundation for budgeting, forecasting, cash management, and more, leading to the rapid actualization of their mission. 
Being a nonprofit does not mean you will not care about finances. However, many nonprofit leaders have a misconception that since they are not-for-profit entities, they have little to do with finances. 
But unfortunately, this is not the case. Knowing how to read your nonprofit's financial statements will make your organization sustainable and facilitate your mission. Moreover, sound knowledge of nonprofits' finances gives you insight into how to allocate money to the areas where it will make the greatest impact. 
With this in mind, we intend to discuss how to read nonprofit financial statements. 
What Is a Nonprofit's Financial Statements?
Like business, financial statements are essential for the effective operation of nonprofits. That said, a nonprofit's financial statements are written records that show the financial activities and performance of a nonprofit.  
A nonprofit's financial statements include two major statements which are: 
Statement of activities and 

Statement of financial position

Statement of activities (income statement)
The statement of activities is one of the major financial statements a nonprofit prepares. It reports how much the organization has and how they use it. The statement of activities focuses on the organization's total and typically reports the following:
 

Revenues

: These include money in the form of contributions, program fees, grants, membership dues, investment income, and the amount released from restriction.

Expenses

: Reports money spent on communities programs, fundraising, and day-to-day operation

Change in net Asset:

It captures a nonprofit's change in net assets, excess, and deficiency.
Ensure that the statement of activities has multiple columns to reflect the amount for the following categories: net assets: without donor restrictions, with donor restriction, and total.
Charity4All 
Statement of Activities 
For the Five Months Ended Oct. 20XX
Without Donor Restriction
With Donor Restriction
Total
Revenues

Contributions

Net Assets Released from restriction

Total Revenues

$10,000

$7,000

$17,000

$7,000

(7,000)

–

$7,000

–

$7, 000

Expenses

Program expenses

Gen& Admin expenses

Fundraising Expenses

Total Expenses

2650

–

–

2650

–

–

–

–

2650

–

–

2650

Change in net assets

14350

–

14350

+Net assets- beginning 

–

–

–

= Net asset-ending

$14350

$

$14350
As a nonprofit leader, it's proper for you to review your organization's financial statement monthly to identify trends and changes as they occur. For instance, if your nonprofit records deficits in a specific period, you should strive to offset it with other periods you have surpluses. 
Additionally, if your cash outflow outweighs your inflow for several periods in a row, you need to take some steps back to figure out where you are getting it bad and fix it before it negatively impacts your nonprofit.
Statement of Financial Position (Balance Sheet)
A nonprofit statement of financial position is typically a financial report that shows, at a glance, nonprofit financial health. It measures your nonprofit's assets, liability, and net assets. Hence, a nonprofit statement of financial position typically has three sections:
Assets (what a nonprofit owns)

Liabilities (what a nonprofit owes)

Net assets (nonprofit's equity)
The statement of financial position provides invaluable insights about the overall financial standing of your organization and helps you know how flexible you're in financing additional expenses for growth.
Below is a diagram of a statement of financial position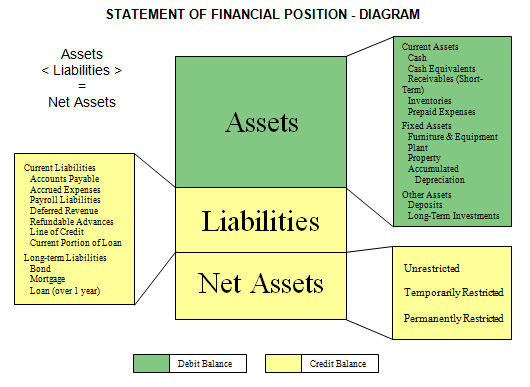 Source: Nonprofit Accounting Basics
What Are the Benefits of Knowledge of Nonprofit Financial Statements?
Understanding your nonprofit financial statements offers numerous advantages to nonprofits. And below are the reasons you should emphasize your nonprofit financial report more. 
Help you measure sustainability

: Nonprofit financial statements help you know if you have the requisite resources to finance your mission sustainably.  

Help in fundraising: 

It allows nonprofit leaders to match revenue and expenses to generate the needed report for funding sources. Plus, they are needed for IRS reporting and can be used to make more informed financial decisions impacting the organization. 

Improve financial management:

Knowing your nonprofit financial statements can help your organization allocate and use resources more efficiently for its overall performance. In addition, you have the insight to plan better for the future and keep tabs on your progress. 

Improve Funding:

By keeping an accurate record of your finances and accounting for how your money is spent, you can build trust and loyalty and attract more donors, leading to increased revenue. Plus, the report you have can help you improve your fundraising efforts. 
Keeping an accurate report of your nonprofit's financial statement can be undeniably daunting, especially when you lack the required skills and have a lot on your plate. However, in recent times, numerous software that nonprofits can readily leverage to help with their finances are out there. For example, FastFund Online has all the tools that help you solve your nonprofit accounting, fundraising, and payroll needs.
Learn More About Our Guest
Joseph is the CEO of Araize, a software company whose sole focus is to provide cost-effective, comprehensive software management solutions to nonprofit organizations. Joe has 10 years of experience as a CPA in a public accounting firm specializing in auditing and consulting nonprofits. With 36 years of experience providing software solutions to nonprofits, Joe is dedicated to helping nonprofits be more accountable and more sustainable so they can better fulfill their mission.
Learn  More About Stephen Halasnik
Stephen Halasnik is the host of the popular Nonprofit MBA Podcast. The Nonprofit MBA podcast's purpose is to help nonprofit leaders and their teams. Stephen is the Co-founder and Managing Partner of Financing Solutions, a leading provider of loans for nonprofits in the form of a Line of Credit. Stephen is a best-selling Amazon author and is considered a leading authority on building great, purpose-driven businesses.
Stephen lives in New Jersey, and his top life mission is to raise his two sons, Michael and Maxwell, to be good men.